Today's storage must be able to keep up with the fast-paced world of retail, where the focus is on fast order fulfillment and overnight delivery. Pallet racking systems are streamlined and efficient, with technology that makes the most of storage space while protecting merchandise from damage. With them, you can even consolidate all your products under one roof as needed to increase efficiency.
They make better use of limited storage space
If you're trying to store everything in your inventory in one warehouse, it can be difficult to make the most efficient use of increasingly crowded floor space. One way to do this is to go "vertical". Store more products in less floor space and reduce product turnaround and shipping times.
They improve storage efficiency and density.
Drive-in racking systems allow you to increase storage efficiency by
Allowing you to store goods more densely
Allowing trucks to more easily access the racking structure to retrieve or place pallets
Space-saving rails let you configure storage racks more efficiently, with fewer aisles required for access
Increases storage density by up to 75%.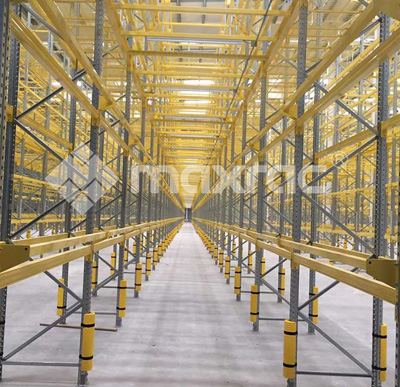 2. Less damaged goods (and racking)
Today's pallet racking systems use heavy-duty slant-back support frame drives in systems with multiple pallet positions deep and multiple shelf heights. This prevents damage to merchandise.
In addition, the racking system is more durable than previous versions and can withstand the impact of forklifts.
3. You can customize your racks with different systems
These racks are durable and use different systems such as drive-in racks, selective racks, push-back racks, and carton flow rack setups, depending on your specific needs.
4. They make order fulfillment more efficient
Customized packaging and storage systems allow you to use warehouse space more efficiently and thus fulfill orders faster.
Modules efficiently select and store merchandise. Merchandise is not replenished by forklifts; instead, conveyors in large central aisles move merchandise in and out for transport and storage. Storage and packaging systems work in tandem to move merchandise seamlessly throughout the process. Merchandise is moved in, stored, removed from storage, and shipped to customers in a seamless process. This means no stops, no downtime, and no searching for specific merchandise at the time of shipment.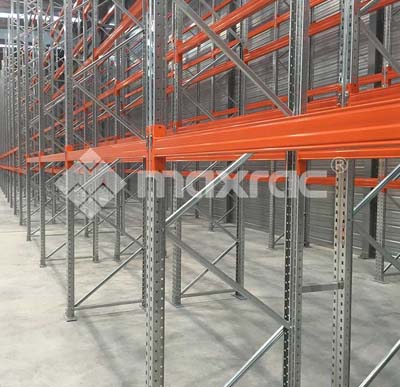 5. Today's pallet racking systems are "smart"
Because today's pallet racking systems are "smart," you can increase productivity by using specific technologies to reduce labor costs and divide items into "batches" based on your choices. Inventory is always visible and will be replaced with new inventory as soon as possible. 6.
6. Add and expand easily
As your business and inventory grow, your pallet racking system can expand with you. Start with one level and then add more features as needed.
With the all-important flexibility, pallet racking systems allow you to spend only what you need at any given time and be able to add to current storage as needed without having to completely reorganize. For example, you can start with one level of the racking system, but add a second, third, and fourth level as needed with minimal or no interruption or downtime.
Today's pallet racking systems provide you with flexible, efficient, scalable, durable, technically supported inventory tracking and storage. You can start small, make the most of limited space, and allow your inventory to expand and grow with your efforts, even as you keep your customers happy with a commitment to on-time, efficient delivery.