A mezzanine is a versatile and practical solution that can double storage space. This can be very useful when planning to utilize the space available in your warehouse. But choosing the right mezzanine for your warehouse can be a difficult decision. Therefore, when looking for the perfect mezzanine, consider the following factors.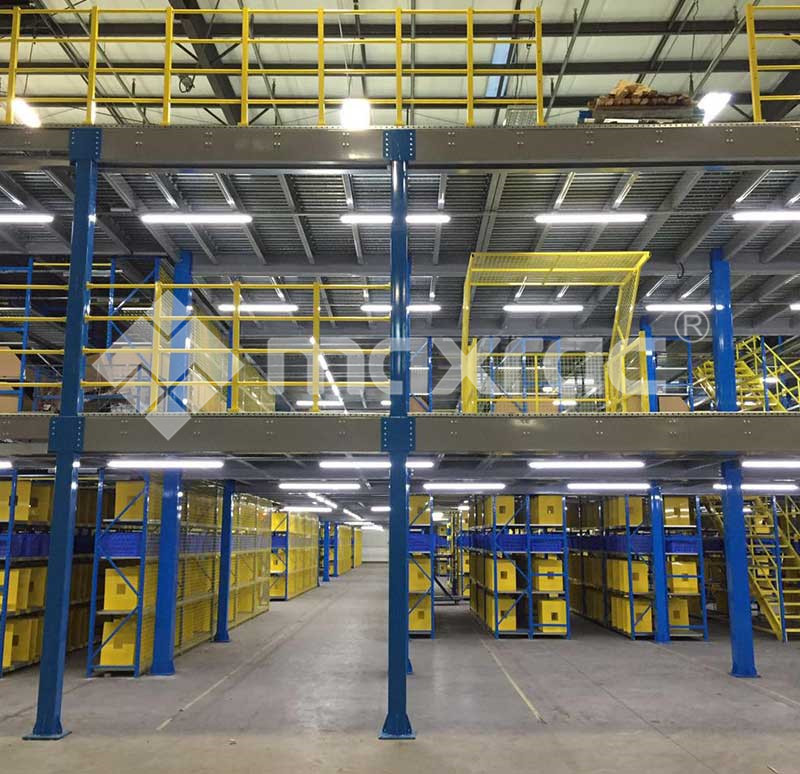 Loads
One of the most important considerations when choosing a mezzanine for your warehouse is its maximum load capacity. Load-bearing requirements will vary greatly depending on traffic volumes and your specific load requirements. Your load weight will determine the right material and type of construction for your warehouse.
Usage
Each type of mezzanine has its own unique purpose. Therefore, the ideal mezzanine for a warehouse depends on its intended use. Some mezzanines are dual-purpose, combining shelving storage with transportation. Other mezzanines are single-purpose, used primarily for transportation, workspace, or storage.
Size
The size of the mezzanine varies, so it is important to consider the dimensions of the warehouse. The mezzanine should be high enough to provide enough space for additional storage without interfering with your business operations below. If your warehouse has unusual dimensions, you may choose a custom mezzanine.
Mezzanine Flooring
The material used to construct the mezzanine floor is another important aspect of choosing the right mezzanine for your warehouse. The flooring depends on the owner's preference, but warehouses typically use industrial-grade steel.
Depending on the load requirements, the subfloor can be solid steel or lattice. Often, a layer of high-density wood or concrete is placed on top of the steel subfloor, depending on the intended use of the mezzanine.
Maintenance Costs
Maintenance costs vary depending on the complexity of the mezzanine. A custom mezzanine that includes an elevator requires more maintenance than a prefabricated mezzanine with a simple staircase.
Mezzanine Types
Mezzanine Racking
Mezzanine racking is a freestanding structure suitable for small warehouses. It is a combination of designs that utilize more than two levels of space. When the floor space of a factory is limited, the space can be effectively utilized by three-dimensional planning. Warehouse mezzanine shelving is a kind of shelving system commonly used in enterprise storage. And it can be used in combination with traditional shelving to maximize the effective use of warehouse space.
Steel mezzanine
Steel mezzanines are the perfect solution for designing additional floor space in existing buildings. This allows you to achieve uninterrupted space above and below, thus providing unlimited flexibility in the use of space. For example, you may want to use the ground floor as a storage platform, manufacturing, work, or picking area.
Are you looking for the right mezzanine system for your warehouse? If so, then you have come to the right place and you can always contact us for the best solution for you.