Wire mesh panels are the preferred solution for improving warehouse storage performance, efficiency, safety and comfort. Wire mesh rack flooring is preferable to wood panels. Whether you are loading large pallets on pallet racks or manually stacking smaller packages on pallet racks, MAXRAC wire decking provides you with maximum strength and flexibility.
Mesh decking is ideal for heavy and very light loads, the pharmaceutical industry, the food industry, and combustible areas because it is a highly versatile product that offers significant advantages over traditional shelving. It can quickly convert pallet racking to shelving for small items without loss of loading capacity. It is a cost effective and powerful alternative to wood and solid industrial steel shelving for storing pallets and shaped products. Each wire mesh panel can be quickly positioned between two pallet racking box beams to create an instant rack for small boxed items or irregularly sized pallet loads.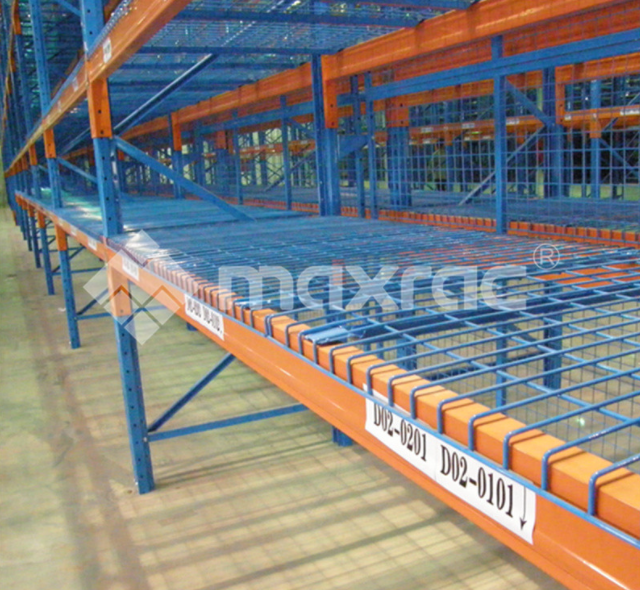 We can handle any custom wire mesh trim requirements you may have. We have a large selection of wire mesh flooring that can be custom sized and patterned for any storage or pallet racking system requirement.
What makes screen decks popular?
Avoid using wood products or other alternatives for shelving trim. These options are inefficient, costly, time-consuming to install, and carry the risk of microbial and fire spread. Don't jeopardize the safety of your personnel and the safety of your pallet loads by choosing the wrong decking material.
Easy to install
Wire decking mounts well to the rack without the use of tools because it has pre-cut dimensions. The waterfall deck is bordered to keep the deck in place and prevent the beams from falling out. Recessed decking is also suitable; however, it requires some modification during assembly to improve stability.
Recessed decks are easy to install. However, the placement of straddle beams should not be the only option. They should be secured to posts or tied to beams to prevent them from separating over time and allowing the deck to slide out.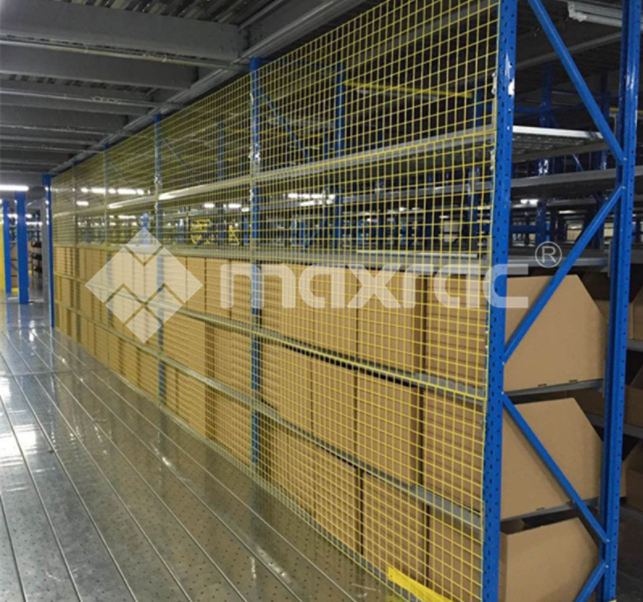 More secure
Wire mesh decking is safer and stronger in many ways compared to wooden options. It reduces the risk of fire spread, prevents product contamination, and provides better protection for shelving products.
The wire mesh design allows dust and spills to flow onto the floor, preventing an increased risk of product contamination from pests, bacteria or dirt. In the event of a fire, wire decking provides significant benefits as it allows proper water flow from fire sprinkler heads to pass through and stop the spread of the fire.
Strong and durable
Wire decking is more durable than wood. The weight capacity of wire mesh decking varies, but usually starts at 2,500 pounds when the weight is evenly distributed. Decks should not carry more weight than the capacity of the shelves. Such a huge load is simply too much for wood. In addition, if the wood gets wet or degrades, it will become weaker and the total amount it can hold decreases over time.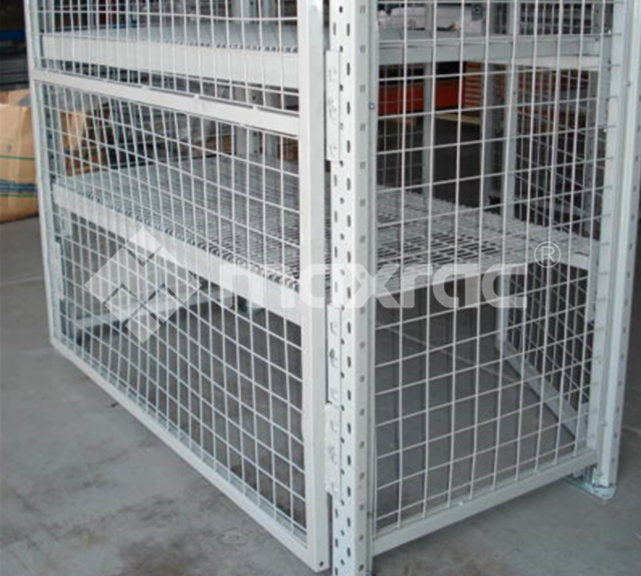 Pass-through lighting
Mesh decking allows light to pass through, while solid wood boards prevent light from passing through. Under the deck, personnel have enough light to see properly. By keeping the area illuminated, wire decking prevents potential hazards and thus makes the workplace safer.
Maxrac wire grid decks are superior to solid wood or steel corrugated decks in assisting in the dispersing of overhead light, which will make it easy for forklift driver to identify products in pallet rack system. Please contact us for more warehouse organizing solutions.